Convertidor de Medio RJ45 to SC 10/100Mbps Multimodo 2Km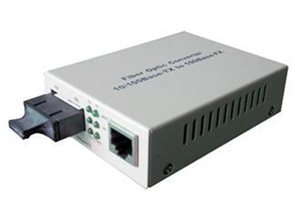 Variant price modifier:
Sales price:
Sales price without tax:
Discount:
Tax amount:
Description
Main description:

The media converter transform the transmission media of Ethernet signal from CAT5 to optical fiber. it can extend the transmission distance to several kilometer or hundred kilometer.
Using media converter is a economical solution to achieve long distance transmission base on current status.

Features:

1- Built in a 2-port switch:
Pass all packets without address and CRC check (optional);

Supports modified cut-through frame forwarding for low latency;

Supports pure converter mode data forwarding for extreme low latency;

Supports flow control for full and halt duplex operation;

Bandwidth control;

Forward 1600 bytes packet for management;

Optional forward fragments.

2. Supports 100Base-FX standard;
3.Built in 128Kb RAM for data buffer;
4.Supports auto MDI-MDIX function;
5. Supports link fault pass through function (LFP);
6. Supports for end fault function (optional);
7. LED display for link/activity, full/half, 10/100M
8. Support EEPROM configuration (optional);
9. the longest transmission distance reach 120 kilometers;

Standard:

IEEE802.3 ETHERNET STANDARD
IEEE802.3u FAST ETHERNET STANDARD